Barikada - World Of Music - Jeans generacija (radio show)
THE JEANS GENERATION - TRIBUTE BANDS 13
Are You Experienced (UK - Jimi Hendrix Experience Tribute Band)
1964 The Tribute (USA - The Beatles Tribute Band)
83 - The Jeans Generation (radio show) - 03.01.2006.

Are You Experienced? (Jimi Hendrix Experience Tribute Band)
E
X
P
E
R
I
E
N
C
E
D
?
ARE YOU EXPERIENCED?
"ARE YOU EXPERIENCED?" are now firmly established as the Europes top Jimi Hendrix tribute, after touring constantly for the last nine years both in the UK and abroad. Lead guitarist / vocalist John Campbell performs all your favourite Jimi tunes like he was born with the guitar in his hands. Drummer Kevin O'Grady and Bassist Mark Arnold provide a powerful and solid foundation for his improvisation. John has appeared on TV & radio in his Jimi persona, and is usually the first person to be called when a "Jimi Hendrix" look alike & sound alike is needed. He was also interviewed for the GUITARIST magazine. (Nov.05' issue) in recognition that "Are you experienced?"are The most successful & authentic tribute to Jimi Hendrix.
The two hour show takes you on a rollercoaster ride of Jimi's music and stage show. No one can ever re-create the impact that Jimi Hendrix must have had on the unsuspecting music public in the late 60's, but "Are you experienced?" come pretty close, with classics such as "Little wing", "All along the watchtower", "Fire", "Voodoo chile" and the haunting "Star spangled banner" - to name but a few, a brand new audience of youngsters as well as the more mature gig goers are discovering or re-discovering the magic of Jimi Hendrix! Get your headbands & jossticks ready for a night out you will be sure to enjoy, culminating in the "guitar burning finale of "Wild thing"... "UNMISSABLE".
Are You Experienced? is:
John Campbell - lead guitarist / vocalist
Kevin O'Grady - drummer
Mark Arnold - bassist
E
X
P
E
R
I
E
N
C
E
D
?
1964 The Tribute (The Beatles Tribute Band)
| | | | |
| --- | --- | --- | --- |
| | | | |
T
R
I
B
U
T
E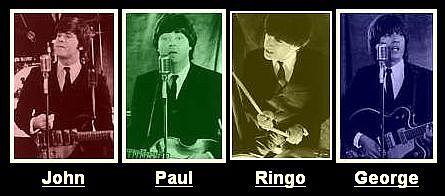 ---