BRIAN BRANISLAV RASIC
CURRICULUM VITAE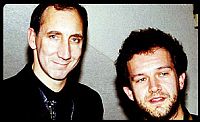 Born in Yugoslavia, the same year as Rock'n'Roll was born in Memphis, Tennessee, Brian Rasic began his career photographing local acts, and touring bands from abroad, in his home town of Belgrade in the early seventies. He moved to London in 1979 and over the years has trained his lens on artists from every genre of popular music, including rock, pop, jazz, country and blues.
The list reads like a virtual Who's Who of the biggest names in contemporary music. From Muddy Waters to Robbie Williams, Sinatra to Beyonce, and from Chuck Berry to Coldplay, Brian has worked with them all.
One of the most in-demand live music photographers in the business, Brian is well known for his work off-stage, too ... in the studio or on location, Brian has worked with everyone from legends such as Kate Bush right up to modern pop queens like Christina Aguilera. Top acts Atomic Kitten and Westlife have enlisted Brian's services on numerous video and studio shoots, and his images have appeared in all kinds of media to promote the artists.
A dedicated fan of The Rolling Stones, Brian has covered their shows since the early 80's, capturing some exceptional moments along the way. In February 2006 he was the Stones' official photographer at their biggest-ever gig, in front of 2 million people on Copacabana Beach in Rio de Janeiro.
Brian is also very proud of his work with personal heroes David Bowie (www.davidbowie.com) and David Gilmour, who have also entrusted Brian with being their official photographer.
Brian is a freelance photographer and his pictures are syndicated to the media exclusively by Rex Features, the UK's leading independent photo agency, and have appeared in newspapers, magazines and books around the world.
And finally, Brian is still continually on the cutting edge of what is happening in the world of music ... join him on his journey, at the show that never ends!
CONTACTS:
www.brianrasic.com
www.rexfeatures.com