Mayte Torres Vazquez
CURRICULUM VITAE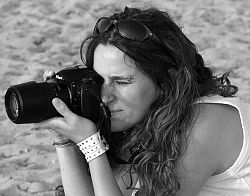 Difficulty on making decisions is the story of her life. Small and big decisions, important or ephemeral decisions, good and bad decisions, the easiest and the most complicated ones, such as her profession. She never figured out what she wanted to become until she was on her twenties, but what she found in the way opened a little whole in a dark wall that helped her to find what was going make life enjoyable.
Since being born in Ibiza, Spain, in 1982, Mayte always liked painting, writing, drawing, photographing and just making things look prettier with a little bit of colour or patience. Always trying to be original or creative, she never really realized how could she make a life from that. At the age of 18 Mayte had to make one of those big decisions, choosing Journalism, but never being completely sure. Mayte made her way through five years asking herself all the time if she had made a mistake, but at the same time enjoying the little bites the university gave her with lessons about photography, graphic design and video edition, sweating blood trying to do her best on them. So she finished her degree in 2005 at least knowing what was coming after: to become a Photographer.
And one week after graduating in Journalism, Mayte was in London prepared to start studying again. Now she is finishing her second year of a BA in Photography and Digital Imaging in TVU. The music industry is very close to her, always surrounded by all kind of musicians, and loving seeing live music. It is not clear yet what she wants to do when she finishes her second degree, but making portraits of musicians is something she's been experienced and something she will definetly will keep doing in the future, if not for a job, for her very good musicians friends, who always need photos for their portfolios... because Mayte knows many musicians, but they don't know so many photographers, or at least not with that personal touch of Mayte's J.
... ... ... ... ... ... ... ... ...
Contacts:
http://zappa.tvu.ac.uk/~05torresvazquezm/website/index.html / maytexxxu@hotmail.com