ŽIGA KORITNIK
CURRICULUM VITAE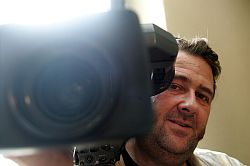 Žiga Koritnik (on photograph left taken by Mr. Robert Balen, on July 07, 2005) has been capturing images of musicians since 1987. He lives and works in Ljubljana - Slovenia, where he is regular guest on the music scene and documents the Ljubljana jazz festival, the Druga godba festival, concerts in Cankarjev dom and various other events across Europe, both large and small, including Saalfelden jazz festival, Konrontationen in Nickelsdorf, and Vienna jazz festival in Austria, Musique Mettisses in Angouleme, France, Womad in Reading, England and the Talos Festival in Ruvo di Puglia, Musicche sulle bocce, Sardegna - Italy, Vision festival in New York. Since 1996 he has been the resident photographer of the Skopje jazz festival in Macedonia, where each year a calender with his photos is published. In 2001 he held a major exhibition at the Skopje City Museum to celebrate the 20th anniversary of the festival, which was accompanied by a book predominantly featuring Koritnik's photographs. In 2001 he spent seven weeks in New York, where he documented the Vision Festival and became acquainted with the musical and artistic events in the city. He was afforded the oppurtunity to exhibit in the Kavehaz Gallery in Soho. His photographs are regulary published in Slovene newspapers and magazines (including Delo, Mladina, Muska and Fotografija) as weel in international publications (Time out, Jazz times, Jazziz, Signal to noise, Neue Zeitschrift fur Musik, Ballett Unternationale, Village voice, All About jazz...).
He is also involved in theater photography and has regulary collaborated with the Mladinsko gledalisce Ljubljana. He has worked with Iztok's Kovac's En-Knap dance company, for which he documented performances, and shot an accompanying film of their performance Dalec od specih psov (A far from sleeping dogs), as well a film about composer Vinko Globokar, Krotilci casa (The Time Tamers) and also the last movie Beneath her window by Metod Pevec (got many awards at Slovenian film festival and Slovenian candidate for Academy Awards 2005). Since 1989 he has been employed by the Slovene national television station Televizija Slovenija as a TV and film cameraman, and has worked with the directors Maja Weiss, Peter Braatz, Amir Muratovic, Saso Podgorsek and Michael Benson.... In 2001 he documented the making of Peter Greenawy's Map to Pardise exhibition in Ljubljana, which was followed same year year by the publication of a book with extracts from his documentation of Greenaway's film, the creation of which is still underway. In 1996 he self-published a book of photographs entitled Jazzy-ga! (Jazz-it!). To mark the occasion, he held an exhibiton at one of the major European jazz festivals in Saalfelden, Austria. He was invited there in 2003, too. His photos have also appeared in may books by other authors, including a book on the sculptor Jakov Brdar, whose sculpting of general Rudolf Meister he documented, and Colors of Music, published for the 20th anniversary of the Saalfelden jazz festival.
Ziga Koritnik also created cover of the Slovene translation of the autobiography of Miles Davis. He invited the photographers Mauro D'Agati, Raffaella Cavalieri, Matthiass Creutziger, Manfred Rinderspacher, Jak Kilby, Luca D'Agostino and Enid Farber to exhibit at the Ljubljana jazz Festival in Slovenia. In 2004 he made group photo exhibition of Slovenian music photographers. He has collaborated with the publishers of Mladinska knjiga magazines, and the company Hit Nova Gorica. He is a member of the Jazz Journalists Association. His photographs have illustrated the covers of CDs releases by labels such as Tzadik, Intuition Music, Nika Records and Leo Records. In 1997 the Italian photo magazine Zoom featured presentation articcle on Ziga Koritnik. He heldover more than 20 solo and 10 group exhibitions. He has received the Special recognition award at the Olympus photo competition in Japan, and the Zlata diploma (Golden diploma) award for the annual report by HIT Nova Gorica. The internet edition of Encyclopaedia Britannica has an entry for Koritnik's web site (www.ljudmila.org/scca/koritnik/) under The Web's Best Sites. His newest work you can find at www.allaboutjazz.com in Visual Art Center.
Classic approach to Jazz photography by the Slovenian artist Ziga Koritnik. Includes an extensive selection of B&W images of everyone from traditionalists such as Joe Henderson and Tito Puente to avant-gardists Mark Ribot and John Zorn. Also provides numerous images of eastern European jazz artists that powerfully demonstrate the universality of jazz. Born 1964 Free-lance Photographer, TV and film cameraman (employed at TV Slovenia), member: Jazz Journalists Association.
Solo shows:
2005 Delavski dom, Hrastnik, Slovenia
2005 Trnfest, KUD France Preseren, Ljubljana, Slovenia
2005 B92 Rex - Ring Ring festival, Belgrade, Serbia
2005 Kulturhaus, Dresden, Germany
2003 BOF, Ljubljana, Slovenija
2003 Jazz festival Izzven, Maribor, Slovenija
2003 Jazz festival Saalfelden, Austria
2003 Pavel haus, Laafeld, Austria
2002 Pri Skofu, Ljubljana, Slovenia
2002 Galerija Plocnik, Ljubljana, Slovenia
2002 Stockwerk, Graz, Avstrija
2002 Kavehaz, New York, U.S.A.
2002 Kavehaz, New York, U.S.A.
2001 City museum Skopje, Macedonia
2000 Gallery Meduza, Koper, Slovenia
2000 Congress and cultural centre Cankarjev dom, Ljubljana, Slovenia
2000 Museum Loka, Skofja loka, Slovenia
1999 Kibela, Maribor, Slovenia
1998 Technical university, Dresden, Germany
1998 City Library, Ludwigshafen, Germany
1998 Slovenian film fund, Ljubljana, Slovenia
1998 Likovni salon, Celje, Slovenija
1998 Jazz Festival Ljubljana, Gallery Avla NLB, Slovenia
1996 Jazz Festival Saalfelden, Austria
1996 Ganglova gallery, Metlika, Slovenia
1995 Photo gallery Stolp, Maribor, Slovenia
1993 Cultural and congress centre Cankarjev Dom, Ljubljana, Slovenia
1991, 1994, 1999 Galery Kud France Preseren, Ljubljana, Slovenia
1990 Gallery Lerota, Ljubljana, Slovenia
Group shows:
2005 OSCE ministerial council, Ljubljana, Slovenia
2005 Jazzy-ga!-Shared passion (projection), Musice sulle bocche, Sardegna, Italy
2005 Vision Art center , European cultural capital, Cork, Ireland
2005 Galleries Lafayette, Nice, France
2004 prostori Evropske komisije, Strassbourg
2004 Tours, France
2004 Evropski Parlament, Bruselj
2004 Slovenian music photographers, Kibela, Maribor, Slovenia
2004 Slovenian music photographers, Congress and cultural centre Cankarjev dom, Ljubljana, Slovenia
2003 TV Slovenia, Ljubljana, Slovenija
2003 Jazz festival Cerkno, Slovenija
2003 Salon sodobne Slovenske fotografije, Gospodarsko razstavisce, Ljubljana
2002 Black&White, Galerija Sula, Ljubljana, Slovenia
2002 with Enid Farber and Dejan ©tampar, Congress and cultural centre Cankarjev dom, Ljubljana, Slovenia
1998 Galerija Kapelica, Ljubljana, Slovenija
1996 Direktn'ga iz moj'ga serca / Straight from my heart, KUD France Preseren, Ljubljana
1995 Koncertni atelje Drustva slovenskih skladateljev, Ljubljana, Slovenija
1994 Drustvo oblikovalcev Slovenije, MGLC, Ljubljana, Slovenija
1993 Miza, Kud France preąeren, Ljubljana, Slovenija
1993 Giganti, Moderna galerija, Reka, Hrvatska
1993 Giganti, Galerija SKUC, Ljubljana, Slovenija
1991 Olympus, Tokio, Japonska
Cinematographer:
2005 Zenske iz neboticnika, by Dusan Moravec
+ documentaries for AGRFT (Academy for film, TV..., Ljubljana, Slovenia)
2005 Harmonikarji / acordian players, by Dusan Moravec and Leon Matek
2004 Gospod profesor, by Edvard Zitnik
Prica, by Klemen Dvornik
Beneath her window, by Metod Pevec
Krotilci Casa, by En-Knap
Glazier blues, by Harry Rag
Tranzicijski Don Kihot, by Amir Muratovic
2000 Strangers in the city, by Peter Braatz
2000 Ljubljanske vile, by Amir Muratovic
Tinkara Kovac, by Bostjan Korbar (videospot)
Motorkult, by Peter Braatz / Aldo Ivancic
Gary Lucas & Golem, by Peter Braatz
Maks Fabiani, by Amir Muratovic
Portfolios:
Jazznin, Japonska (2005)
Fotobilten, Ars Vivendi, Slovenia
Zoom, Italija / ZDA
Books:
2005 Vision Peace book, New York, USA
2002 Peter Greeneways's Map to Paradise from Ljubljana, Museum, Ljubljana, Slovenia
2001 20 let Skopje jazz festival, Macedonia
2000 Miles Davis, Autobiography, Tangram, Slovenia
2000 Jakov Brdar, Obalne galerije Piran, Slovenia
2000 20 let Hale Tivoli, Ljubljana, Slovenia
2000 20 years of Congress and cultural centre Cankarjev dom, Ljubljana, Slovenia
Ljubljana - City of culture, Slovenia
1996 Colors of music - 20 let Saalfelden Jazz Festival, Austria
1996 Jazzy - ga!
Show organizer and author of the shows:
2004 Slovenian music photographers (Nada Zgank, Primoz Zrnec, Iztok Zupan, Marjan Laznik,
Jurij Vicintin, Goran Antlej), Congress and cultural centre Cankarjev dom, Ljubljana, Slovenia
2003 Jak Kilby - Jazz photography, Cankarjev dom, Ljubljana, Slovenia
2002 Enid Farber - Jazz photography, Cankarjev dom, Ljubljana, Slovenia
2001 Mauro D'Agati - Jazz photography, Cankarjev dom, Ljubljana, Slovenia
1999 Manfred Rinderspacher - Jazz photography, Cankarjev dom, Ljubljana, Slovenia
Raffaella Cavalieri - Jazz photography,Cankarjev dom, Ljubljana, Slovenia
1998 Matthias Creutziger - Jazz photography, Cankarjev dom Ljubljana, Slovenia
1996, 1997, Straight from my heart, KUD France Preseren, Slovenia
CD's:
2005 Pictures taken for new album of Paolo Fresu, Aivind Aarset, Dhafer Youseff - to be published
2005 Boris Cavazza Quartet "11 korakov",
2005 Mateja Blaznik, Uspavanka za vagabunde
2004 Fake Orchestra, "Fake World", Goga Musica
2004 Igor Lunder Sekstet
2004 "Izpovedi porno dive" - glasba iz predstave Patty Diphusa, Familija
2003 James Chance, "Irresistible impulse", Tyger Style Records
2002 "Zlati coln", Zlatko Kaucic, Splasch Records
2001 Toni Kitanovski - Zoran Madjirov "Duet", SJF Records
2001 Golden years of the Soviet New Jazz, Volume 1, Leo Records
2001 "The art of walking", Ales Hadalin, Uros Rojko, En-Knap dance company, Vitrum
2000 Ned Rothenberg "Ghost stories", Tzadik
2000 Bratko Bibic & The Medleys, Staritete in novitete
2000 Melita Osojnik, Zar ptica - zalozba Nika
1999 Vyacheslav Guyvoronsky / Evelin Petrova - "Chonyi together" - Leo Records
1998 Acordian tribe (Guy Klucevsek, Bratko Bibic, Otto Lechner...) - Intuition Music
1998 Folkestra
1998 Lindsay Cooper & Charles Gray "Pia Mater" - Resurgance
1998 Ken Hyder / Dave Brooks / Maggie Nicols / "In the stone" - Impetus Records
1998 Bratko Bibic & The Madleys
Calendars:
2006 Jazz Cerkno
1996 - 2006 Skopje Jazz festival, Macedonia
1996 Ziga Koritnik
WEB sites:
Phoucus photography agency / KUD France Preseren / All About Jazz / Hiendfi / Jazz station - Dave Holland / Ned Rothenberg / Zeena Parkins, Mark Dresser / Matts Gustafsson/AALY trio + Ken Vandermark / Bast, EMD Poland, etc...
TV documents of exhibitions and portraits:
Osmi dan 2005 (Katja Bester) avgust 2005
Slovenski magazin (Amir Muratovic) september 2005
Kulturna kronika (Mateja Valentincic) julij 2005
Kulturna kronika (Ana Marija Strukelj) julij 2005
Magnet (Spela Kozar) julij 2005
Published photographies in magazines and newspapers:
Jazznin, Japonska / Il Manifesto, Italy / Mladina, Delo, Dnevnik, M'ZIN, Likovne besede, Revija GM, Muska, Fotobilten, ARS Vivendi, Slovenia / Opscene, Holland / Neue Zeitschrift fur Musik, Germany / Ballett Internationale, Germany / Time Out, Great Britain / Jazz Times, United States of America / European Design Annual 1998 / Signal To Noise, U.S.A. / Jazziz, U.S.A., / Village voice, U.S.A / All about Jazz, / Prize winners of Olympus 70th Anniversary International Photo contest, Japan / OLYMPUS Magazine Internationale, Germany, etc...
Published photographies in programme booklets:
JazzMag - Jazz festival Saalfelden
Centre Georges Pompidou, France
Theater m.b.H., Austria
The Place Theatre, Great Britain
Schouwburg, Holland
Druga godba, Ljubljana, Slovenia
Exodos, Slovenia
P.A.R.A.S.I.T.E. Museum, Slovenia
Skopje jazz festival, Skopje Macedonia
Vision festival, New York, U.S.A., etc...
Theater photographer:
Slovensko Mladinsko gledalisce, Gledalisce Ane Monro, Drama...
Set photographer:
Vertigo bird directed by Saso Podgorsek
Cobra directed by Saso Podgorsek
Tretje oko directed by Bojan Labovic, etc...
KONTAKTI: