Barikada - World Of Music - Arhiva 92
Sretna vam i vesela Nova 2008. godina

Svim posjetiteljima muzicke web stranice www.old.barikada.com, kao i svim njenim vrijednim saradnicima zelim sretnu i veselu Novu 2008. godinu. Web counter ove web stranice je u decembru 2007. godine pokazivao cifru od 281,873 posjeta, a decembra 2007. ima vise od 667,000 posjeta. Razlika od vise od 385,000 posjeta u toku 2007. godine govori o respektu koji ova web stranica ima u Internet ponudi medju brojnim muzickim web stranicama. Zahvaljujem svim saradnicima na kvalitetnim i aktuelnim prilozima. Bez vas, naprijed navedeni rezultat nikada nebi bio postignut. Ljudski je teziti vecem uspjehu. Nastavimo zajedno i on ce i biti postignut. Hvala svima koji su mi poslali novogodisnje cestitke. Ne ljutite se sto vam na svim lijepim zeljama odgovaram na ovaj nacin. Moje najljepse zelje upucene svima vama su, bez rezerve, iskrene. I kako rece g. Sinisa Skarica u svojoj novogodisnjoj cestitci, nasa vodilja ce i nadalje biti njegove rijeci: "...da medu ljudima ostane jedino Barikada koja brani dostojanstvo i ljepotu glazbe!"

| | |
| --- | --- |
| Autor: Dragutin Matosevic, Tuzla, BiH. | |
Slusaj najglasnije - Noviteti iz kataloga za 2007. (8)

Zavrsava vrlo uspjesna godina za "Slusaj najglasnije", neovisnog izdavaca koji se obreo na izuzetnom americkom KZSU radio programu (Stanford, California, USA) i koji je pogurao cijeli niz albuma, izvodjaca i pjesama s ove etikete. Predstavljamo vam posljednji katalog nanovijih izdanja sa 12 albuma koji su jedan bolji od drugoga (kako koji) - slovenski Actoon, Electric Fish i Rehab Group, bosanski Infra-Red i Machina, srpske Mrsavi pas, Pionir 10, obrenovacki Krcko Orascic, novi rad Kodagain iz Knjazevca, te hrvatske predstavnike Babilonce (sa uvijek prisutnim gostom St iz grupe Goribor), Etui Etui Soniczoil i skrenimo vam paznju na nevjerojatno hrabri rad Jura Klavijature. Na kraju recenzija mozete abecednim redom pogledati svih 68 albuma sa etiketom "Slusaj najglasnije" iz kataloga za 2007. godinu.
| | |
| --- | --- |
| Autor: Vladimir Horvi Horvat, Zagreb, Hrvatska. | |
Tomislav Goluban & Little Pigeon's ForHill Blues - Nastup u BP Clubu (10.01.2008.)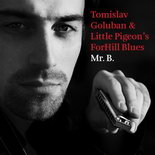 Zagorski blueseri u BP Clubu, promocija albuma "Mr. B." u sklopu Century of Blues Festivala. Tomislav Goluban & Little Pigeon's ForHill Blues nastupit ce 10. sijecnja 2008. godine u poznatoj zagrebackoj jazz podmornici, BP Clubu, u sklopu festivala Century of Blues. Taj ce festivalski nastup zagorski blueseri iskoristiti za promociju svog novog, drugog po redu albuma "Mr. B.". Isti je, nakon jesenskog samostalnog izdanja clanova sastava, reizdao zagrebacki Aquarius Records, u suradnji s diskografskom agencijom Spona, u prosincu prosle (2007.) godine. "Mr. B." je 57-minutni unikatni spoj tradicije americkog Juga i korijena delta bluesa, s autohtonim elementima zagorske glazbene bastine predvodjen usnom harmonikom Tomislava Golubana. Na koncertu ce kao posebni gost zasvirati i spiritus movens BP Cluba, legendarni hrvatski jazz vibrafonist, Bosko Petrovic. Koncert pocinje u 22 sata, a druzenje s novinarima predvidjeno je u 21 sat, te i nakon nastupa benda Tomislav Goluban & Little Pigeon's ForHill Blues. Web link: www.goluban.com .
| | |
| --- | --- |
| Autor: Ivana Futivic, Zagreb, Hrvatska. | |
Demether (SRB) - Portrait

Demether is metal / gothic / sympho / nympho metal band from Serbia. Demether story ... begins in June 2002 when Damjan Deuric (keyboards and vocal) and Darko Viskovic (guitars and vocal) started working on a couple of songs in characteristically gothic and acoustic manner (acoustic guitar, Hammond organ and deep male vocal). Damjan's sister Dunja helped them by singing back vocals in undefined voice. With a couple of gigs and a few recorded demo songs, it seemed that everything will stay that way... The band started recording of the second album in the summer of 2006, and the album, called "Beautiful", was finally released in August 2007. Demthrer is featured by: Dunja Deuric (vocals), Damjan Deuric (keys, vocals), Attila Benko (drums), Branko Bursac (bass), Branislav Kolarski (growls), Jan Petrovic (guitars). Web link: demether.com . (...JG 187).
| | |
| --- | --- |
| Autor: Dragutin Matosevic, Tuzla, BiH. | |
A.O.G. Media - Compilation Volume 8

A.O.G. Media presents: "Compilation Volume 8". The CD-R is an enhanced version. It will play on any player, plus if you place it on your computer, you will find the current newsletter, the CD cover, and the Jesse De La O's "Death Angel" video. "I am looking for places to showcase "Compilation Vol. 8". If you are a club owner or booking agent in South Texas, and you have a karaoke night and or a DJ night, please consider this show for a special Rock Night show. I MC a 2 hour show introducing the music from "Compilation Volume 8", and CDs by bands I distribute. I set up a merchandise table, and afterwards I perform a few songs on acoustic guitar and sing with backing tracks. In between I have 3 drawings for free CDs from Serbian distributor Branimir Bane Lokner, and T-shirts from band Imogene", said Jesse De La O. A.O.G. Media "Compilation Volume 8" features: Hellrazer (Calgary, Alberta Canada); Outlive (Richmond, Virginia, USA / Saudi Arabia); Jose' Diaz (Victoria, Texas, USA); Terry Daun - Chandler (Arizona, USA); Jesse De La O (Victoria, Texas, USA); Lunatics On Parole (Hollywood, California, USA); Storm Of Damnation (Italy); Gypsy Carns (USA). Contac for more info: jessedelaojr@yahoo.com . (...JG 186).
| | |
| --- | --- |
| Autor: Dragutin Matosevic, Tuzla, BiH. | |
Urban & 4 - Merkur / Negativ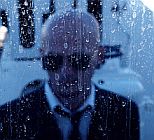 U ponedjeljak 17.12. 2007. godine Urban & 4 objavitli su novi singl, "Limun", koji najavljuje novi album "Merkur / Negativ" ciji je izlazak u izdanju Croatia Records predvidjen za veljacu 2008. godine. Album ce biti sastavljen iz dva ravnopravna dijela, "Merkura" i "Negativa", koji ce donijeti po 7 pjesama svaki. Pjesma "Limun" najavljuje dio albuma pod nazivom "Merkur", dok ce pred samo objavljivanje albuma izici i singl sa dijela nazvanog "Negativ". Obzirom da se singl nece naci u prodaji, Urban & 4 su u dogovoru sa svojim izdavacem, Croatia Records, odlucili dati besplatan download te pjesme, na stranici www.myspace.com/urbanandfour . Snimatelj pjesme "Limun" je Predrag Trpkov, producenti su Predrag Trpkov i Urban, dok se kao gosti u pjesmi pojavljuju: Tonci Radic na gitari i Orhan Maslo - Oha na udaraljkama. Samo snimanje albuma je u zavrsnoj fazi. Jedan dio je snimljen u studiju Predraga Trpkova, na Krku, a drugi dio u studiu Maria Junicica u Rijeci. Na albumu ce biti nekoliko gostiju, a imena nekih javnosti ce biti poznata tek po izlasku albuma. Inace, Urban & 4 (uz Damira) cine: Marco Bradaschia - bubanj, udaraljke; Sasa Markovski - klavijature, programiranje, vokal; Sandi Bratonja - bas, akusticna gitara, udaraljke, vokal; Luka Toman - gitare, udaraljke. (...JG 186).
| | |
| --- | --- |
| Autor: Marina Skoro, Zagreb, Hrvatska. | |
Nenad Vetma - Zalij to cvijece...

Popularni splitski pjevac zabavnih nota, Nenad Vetma, vraca se u akciju! Nenad Vetma je potpisao ugovor s diskografskom kucom Dancing Bear, te je 14.12.2007. godine objavljen njegov novi album nazvan "Zalij to cvijece...". Vetma je sa svojim suradnicima, uz svoje autorske pjesme, snimio obrade klasika hrvatske pop glazbe iz 70-ih i 80-ih. Zasigurno ce mnoge generacije obradovati pjesmama kao sto su "Bolis me duso", "Ako me ostavis", "Lola", "Staro vino", "Evo mene dobri ljudi" ... i naravno, najavnim singlom, "Zalij to cvijece suzama srece". Na albumu gostuju: Mladen Grdovic, Jole i klapa Iskon. Ovaj nekadasnji pofesionalni tenisac, kako mnogi vec znaju, jednako dobro barata i reketom i mikrofonom, a ovo drugo ce potvrditi i ovaj dobro osmisljeni come back album. Dok razmisljate da li je Vetma najbolji tenisac medju pjevacima ili najbolji pjevac medju tenisacima, podsjetimo da ga zovu i - hrvatski Tom Jones (potaknuti izvanrednom obradom njegove "I Wanna Go Home"), pa su se tako svojedobno i oglasili i iz Tom Jonesova tima telefaxom podrske. (...JG 186).

| | |
| --- | --- |
| Autor: Dragutin Matosevic, Tuzla, BiH. | |
Edo i Adi Mulahalilovic - Aktivnosti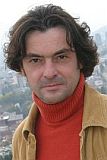 Edo (na slici) i Adi Mulahalilovic su muzicari, kompozitori i producenti. Iza sebe imaju oko 20 objavljenih albuma u Skandinaviji (uglavnom Finska i Svedska) i oko 10 objavljenih albuma na prostorima ex Jugoslavije (do sada). Dobitnici su svih najznacajnih priznanja muzicke industrije u ex-YU do 1991. godine - Zlatne ptice Jugotona za preko milion prodatih albuma grupe "Hari Mata Hari" ("Kad dodje oktobar", "Sjeti se ljeta", "Ostavi suze za kraj", "Rodjena si samo za mene"...); Oskara popularnosti, Dijamantskih ploca, Duple platine Diskotona za album "Edo" ("A sta cu ja kad tebe nema", "Zario sam zar", "Volio te il' ne volio", "Marina gdje si sad"...) , te raznih priznanja sa MESAM-a i sl., a u Skandinaviji imaju do sada 5 platinastih i 2 zlatna CD-a sa raznim tamosnjim izvodjacima (npr. Laura Voutilainen, Isto Hiltunen, Johanna Siekinen, Tony Montana, Janne Hurme... i td.). Takodjer, radili su i muziku za teatar, film, Eurosong ("Ostani kraj mene" - Dublin 1994.) i reklame poznatih medjunarodnih kompanija. Od 2006. Edo i Adi Mulahalilovic kroz studio "Edo&Adi" djeluju u Sarajevu. Za vise informacija kontaktirati: edoandadi@gmail.com .
| | |
| --- | --- |
| Autor: Anesa Samouk, Prag, CZ. | |
Dunja Knebl - Kite i kitice
Album "Kite i kitice", Dunje Knebl, izasao je prvih dana listopada 2008. godine. To je posve drukciji album u odnosu na sve sto je Dunja Knebl do sada snimila. Naime, uvijek je sve bilo temeljeno na aranzmanima za glas i gitaru. Na ovom albumu gitaru je svirao Danijel Maodus (gitarista grupe Afion), a on je napravio i sve gitarske aranzmane. "Najvise volim snimati pjesme koje nikad nisam cula. Proucavam mnogobrojne notne zapise i tekstove koje su u prvoj polovici 20. stoljeca prikupili hrvatski etnomuzikolozi. Pjesme obicno snimam sama (glas i gitara) ili u suradnji s multiinstrumentalistima (Mateom Martinovicem, Mladenom Skalecom). Jedno vrijeme sam nastupala s Irinom (Vitorovic), mojom kcerkom. Nazalost, ona vise ne pjeva sa mnom, ali se nadam da cemo, mozda, jos koji puta zajedno zapjevati i snimiti koju pjesmu", izjavila je Dunja Knebl. Diskografija: "Cujes, golub, cujes" (Morje Kak, 1994., MC), "...Jer bez tebe nema mene" (Orfej, 1996., CD / MC), "Croatian Folk Songs From Medjimurje" (Trottel Records, 1998., MC), "Iz globline srca" (Dancing Bear, 1998., CD / MC), "Cetiri frtalji" (Dancing Bear, 2000., CD / MC), "Da sam barem guska" (Dancing Bear, 2002., CD / MC), "Polje siroko, nebo visoko" (Dancing Bear, 2005., CD / MC), "Kite i kitice" - na slici (Dancing Bear, 2007., CD / MC). Web link: www.dunjaknebl.com . (...JG 185).
| | |
| --- | --- |
| Autor: Dragutin Matosevic, Tuzla, BiH. | |
50 Cent - Koncert u Prishtini / Kosovo

Organizaciju open air koncerta americke rap zvijezde, 50 Centa u Prishtini 17. decembra 2007. godine trebalo je shvatiti kao "nemogucu misiju", jer ako se uzmu u obzir poznate (hladnoca od -10 stepeni Celsiusa, nepovoljna politicka situacija, tehnicke (ne)mogucnosti postojece infrastrukture, itd), ali i mnoge ocekivane i nepoznate cinjenice - onda, sada, kada je sve proslo - mozemo reci da su Login Kociski i ekipa Lithium Recordsa iz Skoplja uz pomoc prijatelja iz Slovenije, Hrvatske i Srbije - zaista ostvarili nemoguci zadatak! Suvisno je bilo sto vice reci - pogledajte fotke (u nastavku priloga) ili prosurfajte muzickim web siteovima... Ono sto jos treba naglasiti je veliko hvala gostoljubivom narodu Prishtine kao i glavnom sponzoru ovog projekta!
| | |
| --- | --- |
| Autor: Darko Budna, Koprivnica, Hrvatska. | |
Jimmy Lloyd Rea and The Switchmasters - Portrait

"I have been very fortunate to have stood and played on the bandstand with many of the true Blues legends. From Albert, BB King and Freddie King, to Lightnin' Hopkins, Charlie Musselwhite, J. B. Hutto, John Lee Hooker, Otis Rush, Howlin' Wolf, Willie Dixon, Muddy Waters, Paul Butterfield, Big Walter Horton, Sonny Rhoades, Pete "King" Karnes, Luther Tucker, Snooky Pryour, Robert "Jr." Lockwood, etc, to the newer guys like Jimmy Mesi, Paul DeLay, Lloyd Jones and Stevie Ray Vaughn. It has been a great time so far. I did, however, have a sound lurking in my heart, mind, and soul. Blues with a certain Groove and Fire. A much more free, non rehearsed, and straight from the soul type sound. After many years it happened. In a greasy little bar in Baker City, Oregon, in the mid 1980's with guys I had not played with before. Reverend Dan and Vince Hozier on guitars, and "Rocket" Johnson on drums. I named it Jimmy Lloyd Rea and The Switchmasters. After too many miles and not much money, the band drifted apart. All of us still remembering the power and the Groove of the original band. It drove us all in a strange circle, searching for the Groove. To make a long story short., we are Groovin' again. The "new" guy in the band is a killer player named Jerry Smith. A perfect fit indeed. Here, then, is our latest offering - "Cruzin' For A Bloozin'". Live, Loud, Simple, Unrehearsed, and Real. It has that JLR and The Switchmasters signature - Old, Fat and Cripplingly Loud Groove. All the mistakes are left in. The guitars solos uncut. It is recorded just like it happened. Enjoy listening to it. We enjoyed making it!!!" (Jimmy Lloyd Rea). Current band members are: Jimmy Lloyd Rea (bass guitar & hollerin'), The Reverend Danny G (lead guitar), Jerry "Telecaster" Smith (lead guitar & hollerin'), Curtis "Rocket" Johnson (drums & hollerin'). Web link: webspawner.com/users/jimmylloydrea . (...JG 185).
| | |
| --- | --- |
| Autor: Dragutin Matosevic, Tuzla, BiH. | |
Jorn (N) - Portrait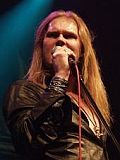 Jorn is metal / classic rock band from Norway. Jorn Lande was born in 1968 and lived his first 16 years in Rjukan, in the heart of Norway. Jorn's interest in music started at an early age, inspired by his father who also was a musician and fan of the rock music of the 70's. After many years of developing as a singer and songwriter, touring with different bands and appearing as special guest on various albums, his first official recording was with Vagabond in 1993. During the past decade he has delivered more than twenty albums with different bands and projects and worked with great artists like Ronni Le Tekro, Yngwie Malmsteen, Micky Moody and Bernie Mardsen (Whitesnake), Joe Lynn Turner, Don Airey (Ozzy, Rainbow and Deep Purple), Uli Jon Roth (Scorpions). His most famous effort was his role as frontman in German metal act Masterplan which has achieved great success around the world. Jorn's line up considers of: Jorn "Jorn" Lande - vocals; Jorn Viggo Lofstad - guitars; Tore Moren - guitars; Morty Black - bass; Willy Bendiksen - drums. Web link: www.jornlande.com . (...JG 185).
| | |
| --- | --- |
| Autor: Dragutin Matosevic, Tuzla, BiH. | |
Breskovic Brothers - Vizija

Sredinom kolovoza 2004. godine, u svom maticnom gradu, Dubrovniku, Breskovic Brothers" su promovirali svoj treci po redu studijski album, "Vizija", koji je izdat sa etiketom zagrebacke Scardone. Najpoznatiji hitovi sa njihova dva prethodna albuma su: "Voljet' cu te vjecno", "Godine", "Sjecanje na nju", "Nocni zvuk", "Miris divljeg ljeta". Uz bracu Breskovic, odnosno Nikolu (bas i trombon) i Toncija (klavijature i vokal), na albumu "Vizija" saradjivali su i Mladen Magud (tenor saksofon), Mladen Baucic i Branko Sukovez (tromboni). Na festivalu "Melodije Kvarnera" su za svoju izvedbu pjesme "Cekaj me", za koju je glazbu napisao Bruno Krajcar, tekst Tatjana Bon, aranzman Ante Gaspardi, dobili drugu nagradu ocjenjivackog suda. Nikola Breskovic je sviranje kontrabasa diplomirao na rijeckoj Glazbenoj akademiji. (...JG 185).
| | |
| --- | --- |
| Autor: Dragutin Matosevic, Tuzla, BiH. | |
Mike Finnigan (USA) - Portrait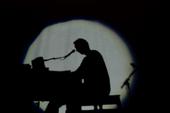 Mike Finnigan is blues / soul / r&b musician from Los Angeles, California, United States of America. When someone asks you who the best kept secret in the music industry is, you can just say two words: Mike Finnigan. When you ask anyone who's anyone in the music industry who Mike Finnigan is, you will most definitely get more than just a two word answer. Finnigan is known as the true master of R&B / Blues Hammond B3 organ next to the late great Billy Preston and one of the finest Soul / Blues singers to date! Touring with Crosby, Stills & Nash dominated most of the 80s & 90s for Mike. Although he still found time to record with some of the world's greatest musicians. Just to name a few: Cher, Ringo Starr, Bobby Womack, Santana, Dan Fogelberg, Eddie Money, Mark Cohen, John Hiatt, Bonnie Raitt, Alice Cooper, Manhattan Transfer & Etta James. In 2005 Mike was inducted into the Kansas Music Hall of Fame! So what does the future hold for Mike Finnigan? Mike's answer is: "I just want to continue playing good music with good people and maybe touch a few other's lives." Web link: mikefinnigan.net .
| | |
| --- | --- |
| Autor: Dragutin Matosevic, Tuzla, BiH. | |
| | | |
| --- | --- | --- |
| | | |
---




Reklamno mjesto 5



Reklamno mjesto 6



Reklamno mjesto 7


Reklamno mjesto 8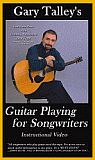 Reklamno mjesto 9



Hosting sponzor: