Barikada - World Of Music - Arhiva 70
Niksic Guitar Festival - Najava

Drugi medjunarodni Niksic Guitar Festival svecano ce biti otvoren (u utorak) 17. jula 2007. godine koncertom Gorana Krivokapica i Danijela Cerovica u 19.30 casova. Manifestacija ce trajati do 25. jula 2007. godine kada ce zavrsni nastup imati Oskar Gusman i "Flamenco group" iz Spanije. Na ovogodisnjem niksickom festivalu nastupice brojna poznata imena klasicne gitare, poput Romana Simovica, Milosa Karadaglica, Tilmana Hopstoka, Artioma Dervoeda, Dusana Bogdanovica, Lin Mekgret, Rolana Dajensa, Vladimira Gorbaca i drugih. Pored toga, bice odrzano vise seminara i takmicenja mladih gitarista. Ovogodisnjom manifestacijom Crna Gora se pridruzuje zemljama koje obiljezavaju jubilej smrti velikog muzicara Domenika Skarlatija. U tom ce raspolozenju, 23. jula 2007. godine, pretposljednjeg dana festivala, biti odrzan i Skarlati gala koncert na kojem ce nastupiti renomirana muzicka imena - Egon Mihajlovic, Roman Simovic, Amanda Stojovic, Karlo Marcione, Goran Krivokapic i Roberto Ausel. Vise informacija ima na: www.niksicguitarfestival.com .
| | |
| --- | --- |
| Autor: Caslav Vujotic, Podgorica, Crna Gora. | |
Elmir Dumanjic Mire (Defence), BiH - Interview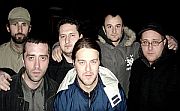 Elmir Dumanjic Mire, vokalni solista tuzlanske grupe Defence u interviewu za Tuzlanski list (br. 138 od 05.07.2007. godine, cetvrtak) i za web stranicu Barikada iznosi detalje o istorijatu svoje grupe, pominje sve njene dosadasnje clanove, najavljuje nastup grupe Defence na ovogodisnjem festivalu Exit u Novom Sadu, govori o njihovom albumu, prvijencu, "Baga Music" i govori o pregrst drugih stvari vezanih za muzicku scenu BiH i tako dalje. Za vise informacija o grupi Defence posjetiti: www.defence-band.tk .
| | |
| --- | --- |
| Autor: Dragutin Matosevic, Tuzla, BiH. | |
Sherman Robertson & BluesMove, USA - Presentation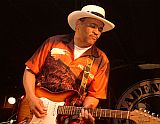 Sherman was born in Beaux Bridge, Louisiana and raised in Houston, Texas. Robertson quickly earned a local reputation as a very good guitarist. While still in high school Robertson was recruited by his music teacher, Conrad Johnson, to play in his popular group, Connie's Combo (and otherwise adult band). As a teenager in the late 1960's, he spent six weeks on the road as lead guitarist with blues superstar Bobby "Blue" Bland and also backed Junior Parker. That gave Sherman the incentive to form his own band, Sherman Robertson and the Crosstown Blues Band with whom he recorded two albums on the Lunar II label. During the 1970's, Robertson was content playing weekends while raising a family and holding down a "regular" job until Clifton Chenier, "the King Of Zydeco," asked him to do some dates with his band. Those few dates turned into 5 years, as Robertson toured Europe and U.S. with Chenier. He then joined Terrance Simien's hot, then young zydeco band, briefly playing with Rockin' Dopsie, Johnny Clyde Copeland and several other well-known artists. For more info check: www.movinmusic.co.uk . (Headliner ...JG 160).
| | |
| --- | --- |
| Autor: Dragutin Matosevic, Tuzla, BiH. | |
Boris Bele (Buldozer, SLO) - Interview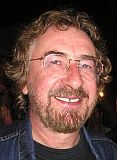 Krajem 60-tih, Boris Bele osniva grupu Sinovi u kojoj su i Borut Cinc (klavijature) i Andrej Veble (bas), a nesto kasnije Boris predvodi i grupu Sedam Svetlosnih Godina u kojoj su ponovo i B. Cinc i A. Veble, ali i Dusan Ziberna (gitara) i Andrej Trobentar (vokal). Prvi zapazen nastup imaju na festivalu BOOM '74 nakon cega im se pridruzuje i Marko Brecelj, a od pocetka 1975. godine nastupaju pod imenom Buldozer. Tada su u grupi; B. Bele, M. Brecelj, B. Cinc, A. Veble, Uros Lovsin (gitara) i Stefan Jez (bubnjevi). Buldozer je svakako kljucna karika u razvoju popularne kulture na ovim prostorima. Grupa koja je u nekadasnjoj Jugoslaviji doslovce sama izvrsila ulogu "prevodioca" rock glazbe iz infantilno-zabavne faze u uznemirljivije, subverzivnije i svakako slobodnije forme. Ovaj bend, formiran u Ljubljani, sredinom sedamdesetih godina, udario je temelje modernog rock izraza u tadasnjoj zajednickoj nam drzavi, te bio preteca slijedeceg tektonskog poremecaja - novog vala. Barikada ima interview sa kljucnom licnoscu ove price. Razgovarali su: Boris Bele (na slici) - zajedno sa grupom Buldozer, ucesnik velikog festivala Rock Otocec 2007 i Darko Budna, redovni dopisnik web stranice Barikada.
| | |
| --- | --- |
| Autor: Darko Budna, Koprivnica, Hrvatska. | |
Spider Trio, USA - Presentation

Personnel: Earle Brown, tenor saxophone; Joe Williams, drums; Dan McNaughton, bass and leader. Dan formed Spider Trio in 1997 in New Orleans, USA, in order to perform his jazz compositions which express his love for a wide range of music, from funk to modern classical. The band is now based in Chicago, and the current lineup consists of Dan, Bryan Pardo on reeds, and Tim Keenan on drums. Another recent project of Dan's is the modern klezmer band Into The Freylakh, led by Bryan, whose self-titled first cd is also available through CD Baby. Into The Freylakh's repertoire ranges from traditional songs to original compositions, among them Dan's "Lenox Road". This (left) is the second Spider Trio CD, with Bryan Pardo on saxophone, Tim Keenan on drums, and Dan McNaughton, the group's leader, on bass. All the compositions are by Dan McNaughton. The group's first CD, "Permission", documents the first version of the group, which Dan put together in New Orleans, and is for sale on cdbaby as well. For more information about their albums check these two links: http://cdbaby.com/cd/spidertrio and http://cdbaby.com/cd/spidertrio2 . (...JG 160 + ....JG 161).
| | |
| --- | --- |
| Autor: Dragutin Matosevic, Tuzla, BiH. | |
Grad - Palach uzivo (Dallas Records, 2007)
Krajem 2005. godine rijecka grupa Grad je sjajnim velikim koncertom na domacem terenu, u kultnom rijeckom Klubu Palach, proslavila 20-ti rodjendan. Fantastican live nastup, gomila hitova i freneticna publika zajedno su stvorili sjajnu atmosferu koja je i zabiljezena na odlicnoj live snimci. Upravo taj live snimak, kao presjek cijele karijere ovih legendarnih rijeckih rockera, posluzio je za njihov album koji je prvobitno bio distribuiran uz rijecki Novi List. Lista pjesama sadrzi 17 naslova koji dolaze sa svih 5 studijskih albuma grupe Grad, a zanimljivo je da album pocinje s "Vjetar u meni", s pjesmom kojom su otvorili i svoj prvi koncert sada vec doista davne 1985. godine. " Nikada do sada nismo uspjeli zabiljeziti taj nas izricaj, sviracku energiju i naboj sa stagea koji se osjeca na ovom live izdanju", izjavio je frontman Grada Dean Skaljac. Osim live snimaka, momci su na ovo izdanje stavili i tri nove pjesme, a jedna od njih, "Kotac", ujedno je i izdata kao radijski single. Live album "Grad - Palach uzivo", zivi je dokument tvrdoglavog opstanka najveceg hrvatskog malog banda svih vremena, kako je jednom netko zapisao. Grad su godinama vlastitim snagama gradili karijeru, nikada ne pristajuci na zadana pravila i kompromise, a ovaj live album apsolutno ide u prilog toj teznji. Slusati glasno! Novi live album grupe Grad, potrazite u Dallas Music Shopovima u Zagrebu, Puli, Rovinju, Splitu, Zadru i Cakovcu. (...JG 160).
| | |
| --- | --- |
| Autor: Mario Grdosic, Zagreb, Hrvatska. | |
No Rules, Tuzla, BiH - Promocija CD-a, video spota i koncert u Tuzli (10.07.2007.)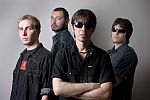 Utorak 10.07.2007.godine u Klubu Palma Tuzla, tuzlanska rhythm & blues grupa No Rules odrzace promotivni koncert povodom novog CD-a "Probaj me". Koncert pocinje u 22 h, a istog dana u 19 h u Klubu Palma odrzace se i promocija CD-a "Probaj me". Promoter CD-a na press konferenciji za novinare bit ce rock kriticar iz Zemuna, Branimir Bane Lokner. Istovremeno ce se promovirati i video spot za pjesmu "Banda vlada". Novi CD grupe No Rules izasao je pocetkom maja 2007. godine, a objavila ga je izdavacka kuca Hayat Production iz Sarajeva. No Rules ce na koncertu nastupiti i sa gostima koji su svirali na CD-u. Za vise informacija o grupi No Rules posjetiti: www.norules.ba ili www.myspace.com/norulestz .Fotos: Samir Aganovic, Tuzla, BiH.
| | |
| --- | --- |
| Autor: Dragutin Matosevic, Tuzla, BiH. | |
Festival Rock Otocec 2007 - Od 05. do 08.07.2007. godine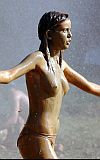 Web stranica Barikada - World Of Music, kao medijski pokrovitelj festivala Rock Otocec 2007 za Bosnu i Hercegovinu, serijom napisa dala vam je detaljan prikaz njegovog istorijata, kao i detaljan program ovogodisnjeg festivala. O Rock Otoccu su na ovoj web stranici govorili njegov direktor, Franci Kek, kao i neki od ucesnika - Boris Bele (Buldozer, SLO) i Marko Herak (Pomoranca, SLO). Vjerujemo da smo i neke od vas zainteresovali da se od 05. do 08.07.2007. godine nadjete u prelijepom slovenackom mjestu Otocec ob Krki. Dodjite da se druzimo, da se kupamo u blatu i da uzivamo u jednom nezaboravnom muzickom spektaklu. Konacan i detaljan (ekskluzivni) plan solista i bendova koji nastupju na festivalu Rock Otocec 2007 pogledajte klikom na "vise". Za sve priloge o ovom festivalu najtoplije se zahvaljujem redovnom dopisniku Barikade - Darku Budni iz Koprivnice bez kojega sve ovo... Ujedno, na raspolaganju vam je (za download ili slusanje) himna festivala Rock Otocec:

Na slici lijevo - detalj sa jednog od prethodnih festivala. Autor fotografije je Samo Jerele (SLO). "...raj je raj, na Rock Otoccu..."
| | |
| --- | --- |
| Autor: Darko Budna, Koprivnica, Hrvatska. | |
J. C. Cinel, UK - Presentation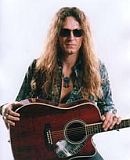 J. C. Cinel is classic rock / blues / rock artist from United Kingdom. J. C. (Giuseppe Cinel) is performing as an artist more than 15 years, as a singer / guitarist and song-writer taking up different kinds of music ranging from rock, rock-blues to country-rock. They have never been re-proposed in a canonical way, but mixed: the result is a particular blend with melody on top of it and a special care for both vocal and instrumental arrangements. He's currently the founder and leader of several bands yet working and playing with a constant activity; this is why he decided to collect his songs in a west-coast, country-rock oriented mini-CD. The first thing to take into account is the choice for this record to go completely acoustic. This comes from his first musical formation and love marked by a deep and constant study of the acoustic and classic guitar and from listening to what's going to have a great influence on his song- writing: Eagles, America, C.S.N., Beatles.. This helps to develop a style enabling him to create a warm and catchy sound perfectly suiting the lyrics contents and rhythms. For more info check: jccynel.com . (...JG 160).
| | |
| --- | --- |
| Autor: Dragutin Matosevic, Tuzla, BiH. | |
3. Jazz Festival Losinj 2007 - Najava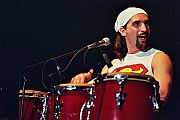 Ove (2007.) godine odrzati ce se 3. Jazz Festival Losinj u Malom Losinju, Hrvatska, i sudeci po programu, ovaj mladi jazz festival postaje jedan od najperspektivnijih. Organizator ovog festivala je Pucko otvoreno uciliste Mali Losinj, a programski je urednik gitarist Zoran Jaeger - Jex, sef popularnog banda The Bastardz. Festival ce se odrzati 26., 27. i 28.07.2007. godine u lijepom ambijentu preuredjenog ljetnog kina "Vladimir Nazor", a nastupiti ce slijedeci izvodjaci: 26.07.2007. - Tammy McCann & Black Coffee (USA, HR), Trio Slastica & Dunja Skopljanac Peros (HR); 27.07.2007. - Matija Dedic Trio & Massimo (HR), Dino Dvornik & Jex MF & The Bastardz All Starz (HR, NL); 28.07.2007. - Cubismo (HR, Cuba, Equador, Venezuela), Klapa Mendula & Black Coffee (HR). Na fotografiji - Hrvoje Rupcic, Cubismo. Vise info: www.jazzlosinj.com.
| | |
| --- | --- |
| Autor: Zoran Jaeger Jex, Zagreb, Hrvatska. | |
Sziget Festival 2007 - Obudai Sziget, Budapest, Hungary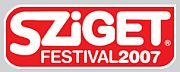 "Mothers and fathers, sons and daughters - the world is yours, what is more; you are the world!" Sziget je najveci, najdulji i najatraktivniji multikulturalni rock festival u Europi. Prvi puta se odrzao 1993. godine, a do danas je ugostio mnoge svijetske rock zvijezde kao sto su: Byrds, Jefferson Starship, Ten Years After, Jethro Tull, Eric Burdon's Band, Faith No More, Jovanotti, Lou Reed, Bad Religion, Oasis, The Prodigy, Motorhead, Patti Smith, Liquido, Suzanne Vega, Placebo, The Stranglers, Jeff Healey, David Bowie, Rammstein, Slash, Morcheeba, The Mission , The Cure, The Tarantinos, Quimby, Him, Iggy Pop, Pulp, Jovanotti, Muse, Mory Kante, The Wailers, The Brand New Heavies, Toy Dolls, Franz Ferdinand, Nick Cave & The Bad Seeds, Korn, Youssou N'Dour, Buena Vista Social Club, Toy Division, Saxon, Fishbone, Guru's Jazzmatzz fest Solar & Doo Wop, Radiohead , Living Colour, Placebo, Prodigy, Robert Plant & Strange Sensation Band, Goran Bregovic And Wedding & Funeral Band, Femi Kuti, Brainstorm, Evergrey, Morbid Angel... Ovogodisnji program Szigeta - koji zapocinje 07. augusta 2007. godine i traje do 15. augusta 2007. godine - pogledajte na www.sziget.hu/festival_english .
| | |
| --- | --- |
| Autor: Darko Budna, Koprivnica, Hrvatska. | |
Marko Herak (Pomoranca, SLO) - Interview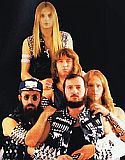 Heavy metal band Pomoranca na muzickoj sceni Slovenije javlja se pocetkom 80-tih godina, kao jedna od specificnih i najperspektivnijih heavy metal (obojen urbanim blues boogiem) grupa tog vremena u ex YU. Osnovali su je Mijo Popovic (gitara), Zlatko Magdalenic (vokal), Marko Herak (bas), Tomaz Zontar (klavijature) i Franc Teropsic (bubanj). Nakon nekoliko albuma snimljenih na engleskom jeziku, nastupaju pod imenom "Orange". Nazalost, inozemni uspjeh je bio izostao i grupa biva sve neaktivnija, da bi u 90-tima ipak objavili tek jedan CD koji je prosao nezapezeno i bez zasluzene sire afirmacije. Diskografija grupe Pomoranca izgleda ovako: "Paklenska pomoranca" (PGP RTB 1982.); "Madbringer" (PGP RTB 1982.); "Orange III" (PGP RTB 1985.); "Nekaj peklenskih" (Pan Records 1993., kompilacija); "Takoj se dava dol" (Panika Records 1995.). Barikada ima interview sa kljucnom licnoscu ove price. Razgovarali su: Marko Herak, bas gitarista grupe Pomoranca (na slici), grupa koja je ucesnik velikog festivala Rock Otocec 2007 i Darko Budna, redovni dopisnik web stranice Barikada.
| | |
| --- | --- |
| Autor: Darko Budna, Koprivnica, Hrvatska. | |
Skopje Blues & Soul Festival 2007 - Skopje, Macedonia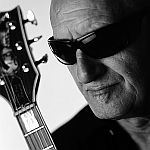 Skopje Blues & Soul festival takes place every first week in July, and this (2007) year is no exception to the rule. Also the high quality of participants makes no exception, all of them are regarded as some of the best in their respective fields, thus making this festival one of the best in Europe. Eleventh in a row, this festival has already created a nice tradition of presenting variety of blues genres with its best exponents from all over the world, some of them with legendary status within the idiom. This year's edition will take place on July 3 and 4 respectively, so let's see what can a blues fan expect on these dates. Festival openers on July 3 will be the fabulous The Nimmo Brothers from Glasgow, currently one of the best blues outfits on British blues scene. Over the past decade The Nimmo Brothers have proven themselves as one of the most respected modern blues bands the UK has seen since the blues boom of the 1960's. July 3 proceeding will be closed with a concert by Sherman Robertson, already considered as "one of the most important blues artists in blues" (Blues Revue), an artist who "deserve to have his name added to the short list of the finest musicians who play electric blues" (Living Blues). What makes this year's edition of the festival so special for blues lovers in Macedonia is a concert by Vlatko Stefanovski Trio, scheduled for July 4. Festival will be closed by another legendary musician, Jan Akkerman will play and promote his recent live album. What can one say for a musician of such proportions as he is? Jan Akkerman for a time eclipsed Eric Clapton, Jeff Beck, Jimmy Page among reader polls in England as the top guitarist in the world.
| | |
| --- | --- |
| Autor: Vasja Ivanovski, Skopje, Macedonia. | |
---




Reklamno mjesto 5



Reklamno mjesto 6



Reklamno mjesto 7


Reklamno mjesto 8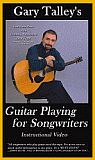 Reklamno mjesto 9



Hosting sponzor: